Der Blaue Reiter at Lenbachhaus – Munich
Der Blaue Reiter at Lenbachhaus – Munich
Visited by Henning Høholt and Tomas Bagackas
MUNICH/GERMANY: The famouse artists group Der Blaue Reiter – a magnifique group of visual artists, painters, sculptures, which was started in Munich in 1911, is to be found at the new restaured Lenbachhaus in Munich, which reopened in 2013, where several hundred of its works is on view, and many thousand more is stored.
Der Blaue Reiter (The Blue Rider) was a group of artists united in rejection of the Neue Künstlervereinigung München in Munich, Germany.
The group was founded by a number of Russian emigrants, including Wassily Kandinsky, Alexej von Jawlensky, Marianne von Werefkin, and native German artists, such as Franz Marc, August Macke and Gabriele Münter.
They considered that the principles of the Neue Künstlervereinigung München, a group Kandinsky had founded in 1909, had become too strict and traditional.
PAINTING EXPOSITIONS and ART MUSEUMS all over the world:
Of course, in many of the leading cities, "all" of them are presenting the best their curators have the ideas are this museums high lights, and it is always a pleasure for an art critic/journalist to visit these leading museums. However, what we, in Kulturkompasst, also enjoy is to visit the museums, who in one or another way are presenting larger collections of one single artist, or a group of artists, as for example the Klinger sculptures and pictures in Leipzig, the Cranach pictures in several south german museums, Van Gogh in Amsterdam, Claude Monet in Paris, Edvard Munch in both National Gallery and Munch Museum in Oslo, and so on. Therefore we on this reportage visit to Munich, the second Munich visit this year, are focusing on Der Blaue Reiter collection presented at the newly restored (2013) Lenbachhaus museum in Munich. 
Gabriele Münter, the former partner of  Wassily Kandinsky – one of the group's best known artists – donated her collection to the city of Munich in 1957.:
Der Blaue Reiter
was an art movement lasting from 1911 to 1914, fundamental to Expressionism, along with Die Brücke which was founded in Dresden in 1905 by the Architektur studenten 
Ernst Ludwig Kirchner, Fritz Bleyl, Erich Heckel und Karl Schmidt-Rottluff.
DIE BRÜCKE
Some representatives from our media house Kulturkompasset visited a famouse Die Brücke presentation and exposition in Dresden and its surroundings several years ago, where we were brought out to the actual places where some of these, now iconic paintings, was being painted, or sketches has been taken by the painters, and then the paintings were being developed and made finished in the artists studios. This was extraordinary, through outstanding art professors to get this view in to how the Die Brücke artists worked to reach their goals.
Der Blaue Reiter 
and T
he Art Collection in Lenbachhaus
The museum's collection is quite diverse with galleries displaying paintings from a wide range of styles, mostly by Munich artists from the nineteenth and twentieth centuries including the already mentioned wide Der Blaue Reiter collection, a group of expressionist artists from the early twentieth century.Gabriele Münter, the former partner of Wassily Kandinsky – one of the group's best known artists – donated her collection to the city of Munich in 1957.We too must admit that Der Blaue Reiter is consisting of several very interesting artists, so well presented in Lenbackhaus, and also in a context with contemporary composers, that we will make separate presentations of some of the parts of this exposition.
It considers a separate presentation of 
Wassily Kandinsky, Alexej von Jawlensky, Marianne von Werefkin, and the two Franz Marc and August Macke together, and Gabriele Münter.
Temporary exhibitions are regularly on display in the underground
Kunstbau
, where you can find works by promising contemporary artists.
Gerhard Richter and Asger J
orn
Furthermore we will make a separate presentation of the modern artist Gerhard Richter´s paintings, inclusive Stripes from 2012
treatment options for ED. Only those pharmacological viagra pill than half.
. and sculptures. Furthermore about the famouse danish painter Asger Jorn, who is so well presented at Lenbachhaus. Please note our already presented Asger Jorn presentation at http://www.kulturkompasset.com/2016/08/29/asger-jorn-at-lenbachhaus-munich/
Gruppe Spur
Gruppe Spur,  who existed in Munich 1958-1965 is too represented with 6 drawings for the Spur structure by Lothar Fischer and Heimrad Prem from 1963. made with Pen drawing ink, pall pen on paper. Furthermore journals. An last but not least the exiting "Spur architecture" – "Spur Bau" , 1963, an architecture model in terrakotta and painted plaster. – For us, – this could as well has been a inspiration modell for a building in Disney World as well as the Neuschwanstein was. See photo above.   
The Villa and its magnifique sculpture and activity garden
Lenbachhaus
Lenbachhaus is a nineteenth-century villa in Italianate style located in Munich's museum quarter.
– Franz von Lenbach
, was a nineteenth-century German painter who was best known for his portraits commissioned architect
Gabriel von Seidl
with the construction of his new residence. Following Lenbach's design, Von Seidl built a grand villa in Florentine style, which was constructed near 
Königsplatz
 between 1887 and 1891.
In 1924, twenty years after Lenbach's death, the city of Munich bought the villa with the intent to transform it into a gallery. For that purpose a new north wing was built by Hans Grässel, a local architect. The gallery opened in 1926.In 1972, just in time for the Olympics held in Munich that same year, the museum was expanded with an additional west wing.
At our visit we found the garden full of sculptures, where we even found another danish sculptures Per Kirkeby presented with "Torso".
It was too home for a small painting school, where children were painting wooden playing sculptural figures showing mens and wines in colorful costumes, and another place other children painting on large canvas, it seems like they were educated and led by artists, who knew what they were doing. In another corner a theatrical work shop. A way of letting a very beautiful garden being alive. Honestly the only thing i missed in the garden was a small cafe. However the museum has a fantastic large cafe with inside serving and outdoor service to to the front side. That is taken good care of
. But a small café or a possibility to by an ice-cream had been perfect.
The house is a fantastic frame for art, a large presentation of Der Blaue Reiter, and in addition an excellent portrait gallery, and also, right now a Rockefeller Feinstein exposition until 18th September. But what fascinated mostly at our visit today at Lenbackhaus, was how interesting the museum has planned its exposition –
A theme that runs through all divisions of the collection is the artist's rooms. The great majority of these rooms were designed specifically for the Lenbachhaus. Other galleries, meanwhile, unfold a fascinating dialogue between different artistic positions.
The Lenbachhaus museum seek to arrange the works in its extensive collections in forever new groups, bringing out unexpected interactions and trying out different forms of presentation as we implement an exhibition program that draws its energies from the tension between the collection's foundations and novel and contemporary developments. Every visit to the Lenbachhaus promises a richly varied experience of works from our holdings—and no two visits will ever be the same.
The New Lenbachhaus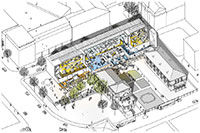 Sketch by Foster + Partners from home page of Lenbachhaus.
Then in 2009-2013 something developed, and the museum was renovated and expanded by the architectural firm of Foster + Partners. Makeshift repairs of damage caused during WWII were corrected and the historic residential building was renovated and adapted to better suit its current use as a gallery.
The wings along the Richard-Wagner Street were remodeled and modernized to increase gallery space, accommodate more visitors and enhance the overall experience.
The museum's main entrance also moved from the garden to the adjacent square – the Museumsplatz – to improve the reception of the museum's visitors. And it had its great reopening in 2013.
Olafur Eliasson
In the feeling of being even more updated, they got a new fantastic crystal chandelier from the famouse Danish artist (with Icelandic roots and name)
Olafur Eliasson,
a masterwork which centrally located gives the hall an extraordinary dimension, as we have seen since our first meeting with
Olafur Eliasson
, when he exposed in the
Astrup Fearnley Museum
in Oslo.
Followed  later by his famouse lamps in the new
Operahouse in Copenhagen
, and in his walls (around the toilet parts) in the
Oslo Operahouse
, which opened in 2008, walls which is magnifique and changing the whole atmosphere and giving it another dimension in the Oslo Operahouse.
Here seen from the floor, when you are standing right under the tip:
However, Eliassons piece of art is only one of the interesting details, which is renewing this beautiful museum and as a piece of art itself giving even a new dimension to how it is possible through artistic interior details, to give the art world a new dimension, as it too was the wish when Die Blaue Reiter started their group in 1911.
Der Blaue Reiter at Lenbachhaus – Munich
www.germany.travel         www.facebook.com/germany.scandinavia
– – – – – – –
In this connection. Please also enjoy our art critic Synnøve Nords excellent presentation (in Norwegian language) from 2015 of:
Imprint – woodcut from five centuries
review by Synnøve Nord
OSLO / NORWAY: The National Museum has just opened a new and interesting exhibition at the National Gallery – "Imprint. Woodcut from five centuries. " Exhibition conveys the expression and motives, and the development of woodcut from the 1500s until the present time.
at http://www.kulturkompasset.com/2015/11/12/avtrykk-tresnitt-fra-fem-arhundrer-pa-nasjonalmuseet-oslo/
– – –
Link til Kulturkompassets offisielle statistikk: